Ground handling
At Roissy CDG where we have our own facilities and staff, but also at all other airports where we conduct flights, we can provide you a wide range of ground handling services.
Ground handling services
Cargo handling
Truck loading dock

Securing means suitable for any type of cargo
Freight storage
Composition of pallets or containers
ASL AIRLINES FRANCE is an authorized agent at Roissy CDG stop.
Aircraft ground support

Arrival / Departure operations

Aircraft towing
Aircraft fuelling
Aircraft loading / Unloading
Flight operations
Weight and balance

Crew support
Weather Information
---
Aircraft maintenance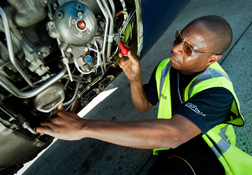 With our lines and light maintenance organization certified by Part 145, we not only provide immediate assistance and reliable time-lines and monitor all services deliveries, but we also reduce the price of a number of fixed costs.
Our maintenance expertise is enhanced thanks to our certifications for the renewal of airworthiness certificates as well as for procedures contained in Part 21 concerning development of minor modifications on aircraft. Our guaranteed know-how is available for online maintenance services and logistic assistance to all carriers.
Online aircraft maintenance

Light aircraft maintenance
Aircraft developments and modifications
Technical expertise
Check follow up