Dear visitor,
We are currently working on our 2018 network which we will shortly sell and we invite you to come back to our site in a few days to know the schedules and days of operation of your destination.

Discovering Halifax
Halifax is eastern Canada's most populated hub. Sitting at the edge of the Atlantic Ocean, this dynamic and charming Maritime city boasts the second largest harbour in the world. Chances are you will hear the fiddle being played along the extensive waterfront boardwalk that winds its way towards the Seaport Market, the oldest in North America. The smell of the salty air and fresh seafood from the local vendors is sure to temp your palette. Meander Halifax's historic city streets like Argyle, with its array of pubs and bustling live music scene. Don't miss Citadel Hill, an iconic image within Halifax. This commanding walled fortress is surrounded by grassy fields and offers stunning views of the city and harbour. Halifax played a pivotal role in the Titanic's tragic demise, and you can learn all about it when you visit the Maritime Museum of the Atlantic. Halifax is a small city with a big heart that will keep you wanting to return again and again.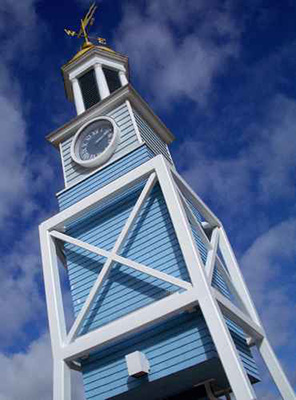 Discovering Dublin
Dublin is an energetic city filled with an infectious flare that leaves you wanting more! A welcoming nightlife scene beckons tourists to the Temple Bar area, which is lined with pubs. It's where a pint of Guinness or a shot of Irish whiskey accompanied by some friendly Irish banter is the way to go. In Gaelic, "Fáilte" means welcome, and that's just the way you'll feel when visiting Dublin. You may even want to partake in what's called a Trad session of Irish music. Dublin is a city where literary greats like James Joyce and Oscar Wilde drew their inspiration, perhaps while sauntering alongside the River Liffey. There is never a dull moment in Dublin, with entertainment ranging from festivals to concerts and the nightlife scene. Stroll the cobblestone streets while gazing at the Georgian architecture that conjures up images of history past. The Irish spirit is certain to not disappoint.
Discovering Paris
Paris is the elusive friend you wish you could hang out all day with. It's a city synonymous with so many things, emanating an air of classic beauty at every turn. The iconic Eiffel Tower stands tall above the city of love in its entire splendor. Decadent French pastries like "crème brûlée" and sumptuous cuisine can be found at every turn, enticing you to awaken your sense of culinary adventure. You will be left breathless by how much there is to see and do. Hemingway wrote "A Moveable Feast" about his time in the city during the 1920s.  Coco Chanel designed and housed her famous fashions in Paris. There was even a time when you could see Monet and Picasso walking the historic streets of Montmartre, a must-visit part of the city.
The Louvre (once a royal residence) is a 220-year-old art museum that is home to the Mona Lisa and the works of Michelangelo, among thousands of others. One of the oldest buildings to see from a cruise along the River Seine is the famous Notre Dame Cathedral, built in the 12th century and revered around the world to this day. Paris is bound to leave an indelible impression.
Information & Booking
– From France: 0 825 825 849 (0.112€ for the first 45  seconds, and 0.15 € per minute) from Monday to Friday from 8.30am until 7pm, Saturday from 9am to 5pm.
– From Ireland: 353 1 882 8680 from Monday to Friday from 9.00am until 5pm.
– From Canada: 1 450 332 9090 from Monday to Friday from 10am until 6pm, Saturday from 11am until 6pm (Halifax time).
– From France:
– From Ireland:
– From Canada:
Important information about Electronic Travel Authorization (eTA):
The Canadian government has set up the electronic travel authorization (ETA). Except for Canadian nationals, all passengers must obtain a visa before entering Canadian territory. More information about eTA.
---
Flight schedule
ASL Airlines France operates to Halifax from  Paris CDG and Dublin, from Wednesday June 28th until Thursday August 31th 2017, on Wednesdays.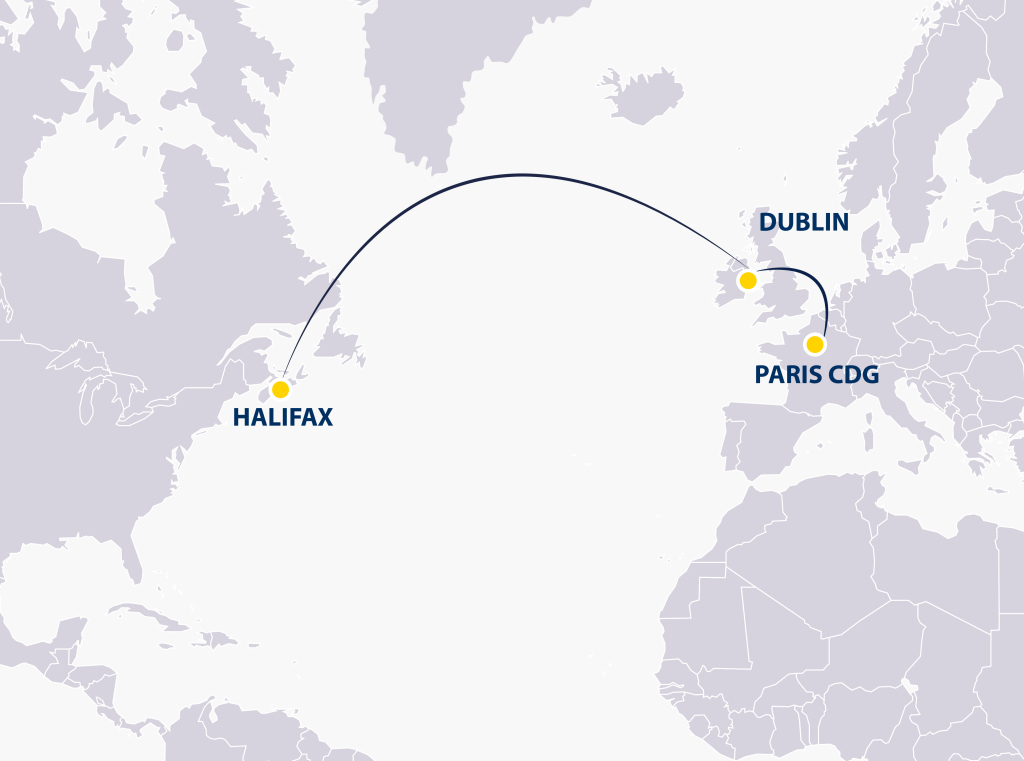 ---
Classes
Our aircraft is configured in two classes: ECONOMY and PREMIUM ECONOMY.
---
Food and Beverage
Classy In-Air Service Starts with ASL Airlines France
For many, flying involves extra expenses on top of your ticket cost. ASL Airlines France harkens back to a time when flying was a joy, a classy experience when everything was included. That's why while on board your overseas flight you can expect complimentary French-inspired meals (cheese included), an array of top-notch French wines from superb regions in France in both Economy and Premium Economy Class. In addition, ASL Airlines France Premium Economy offers in-flight service with real silverware, a broader selection of complementary wine, allowing passengers to experience superior service while on board.
In Flight Entertainment
When traveling overseas comfort is key, so sit back and enjoy a fabulous selection of great music and new movie releases in all genres. It's perfect for you or your family's entertainment while on board. Samsung Galaxy Tabs are provided for free in Premium Economy with a choice of movies, documentaries, games and magazines. Economy passengers could rent one if needed. Free headphones are provided on ASL Airlines France overseas flights.
Fares
Summer season flights:
From France, from 679€ return taxes included
From Ireland, from 329€ one way taxes included
From Canada, from 899$ CAD return, taxes included to France and from 797$ CAD return, taxes included to Ireland.
---
[webedia max_events="3″ max_places="3″]
Airport information
---
Tourist information
Dublin and Ireland:
Halifax, Nova Scotia and New Brunswick:
---
Any other question?
For more information, please consult our « Travelers information » page.